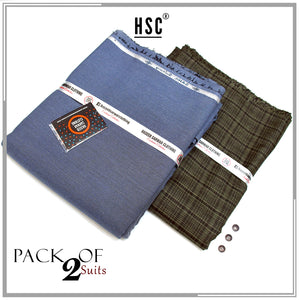 Premium And Featured Pack Of 2 Suits. On Mega Discount Offer! With Free Shipping Nationwide. Limited Stock Available.
Type: Un-stitched

Stuff: (Corduroy Tone Wash&Wear) (Checks Design Wash&Wear)

Cutting/Length: 4 Meters Each

Width/Arz: 54" Inches Approx

For All Seasons

With Complementary Metal Buttons
Elegant Choice Pack
Shling/Shrink: Not Required

Please Refer Your Tailor About Dimensions/Cutting Of Cloth Before Order

Note: Actual Product Color Might Slightly Vary From The Image
Free Shipping In Pakistan. Pay Cash On Delivery.